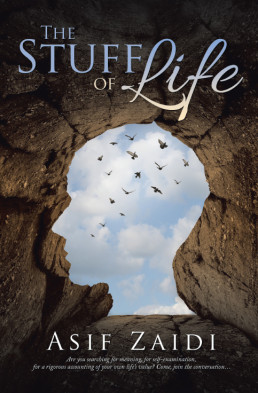 Book Overview
The Stuff of Life is an enriching treasury for anyone interested in an educated mind's views on a variety of subjects that are important to our life's thought process. The book attempts to see the problems of life in the light of human reasoning. Anyone reading this masterclass, in how to think freely and why, will notice not only its enormous sweep but also the author's conscientious fairness.
The book presents a completely cosmopolitan outlook with a diverse influence and an expression borrowing freely from Western literature and philosophy and Oriental liturgy. The author has researched his subject matter deeply and his intelligence and reverence for life are clearly evident in his writing, and the overarching message of the book—to be a better person and transform human race—is beautiful and inspiring. He explores some of the doubts, fears, and perplexities humans experience in various life situations and illustrates how to find comfort and guidance in universal wisdom. His writing is honest and self-disclosing. Self-aware but never self-indulgent, the book provides an enriching view of one person's intellectual voyage.
Join my Mailing List
Would you like more information about this book?
Please fill out the form below so that I can add you to my email distribution list.
I thank you in advance for your interest!
Reviews

The Stuff of Life by Asif Zaidi is a "simple" collection of thoughts and maybe essays from the author. It's non-fiction "self-help," but mostly it is meant to be a spiritual guide/philosophy on how to live life and find meaning in it.

An assemblage of meditative reflections on the meaning of a life well-lived.
Debut author Zaidi, in response to the persuasion of friends, has gathered a collection of short essays (and public addresses) created over the years; the underlying theme is the rational investigation of the meaning of life. That undergirding conceit is sometimes less apparent among the diverse subjects.

What is the purpose of our existence? What is the relationship, if any, between faith and reason? What is our duty to our children and our families? In this book of essays, Asif Zaidi, a banker and advisor to business leaders, takes on fundamental questions of meaning and morality.

Philosophical and inspirational, these essays wind toward grand ideas.
In his collection of essays, The Stuff of Life, Asif Zaidi takes on a series of often grand subjects and makes them relevant to the lives people lead, distilling the wisdom of thinkers both ancient and modern to assist him.

Former Chairman of the Management Board of Citibank Kazakhstan, Pakistani author Asif Zaidi presents essays on a myriad of eclectic subjects in The Stuff of Life. Not hesitant to weigh in on such topics as philosophy, religion, social issues, anthropology, and even evolution, Zaidi is after finding the very meaning of life in this intriguing and wide-ranging collection of essays.